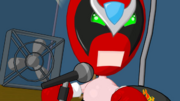 Baddest of the Bands is the third episode of Strong Bad's Cool Game for Attractive People. It has been rated E10+ by the ESRB for Crude Humor, Mild Cartoon Violence, Mild Suggestive Themes and Use of Alcohol. Story written by Mike Stemmle and The Brothers Chaps.
When Strong Bad's beloved Fun Machine goes up in smoke, he must organize and win his own Battle Royale of the Bands to afford the costly repairs. But he's up against some stiff competition! Can he rock the stage and win the big cash prize, or will he be drowned out by the competition?
Cast: Strong Bad, Homestar Runner, Strong Mad, Strong Sad, The Cheat, Coach Z, Bubs, Marzipan, Pom Pom, The King of Town, Homsar
Ad blocker interference detected!
Wikia is a free-to-use site that makes money from advertising. We have a modified experience for viewers using ad blockers

Wikia is not accessible if you've made further modifications. Remove the custom ad blocker rule(s) and the page will load as expected.