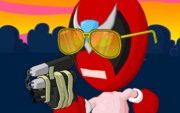 Dangeresque 3: The Criminal Projective is the fourth episode of Strong Bad's Cool Game for Attractive People game series. It was written by Mark Darin and The Brothers Chaps. It has been rated E10+ for Alcohol and Tobacco Reference, Crude Humor, and Mild Cartoon Violence by the ESRB.
The long-awaited third episode of the much-beloved and well-acted Dangeresque series is finally released to the world! Dangeresque will have to solve a number of mysteries - Where is his father, why has Cutesy Buttons been kidnapped, and just who is the nefarious Uzi Bazooka?
Cast:
Ad blocker interference detected!
Wikia is a free-to-use site that makes money from advertising. We have a modified experience for viewers using ad blockers

Wikia is not accessible if you've made further modifications. Remove the custom ad blocker rule(s) and the page will load as expected.