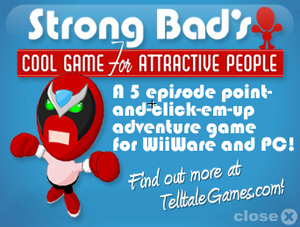 New pages
Welcome to Strong Bad's Cool Game For Attractive People Wiki

Edit
Strong Bad's Cool Game For Attractive People Wiki is a collaborative website about Strong Bad's Cool Game for Attractive People (commonly shortened to as SBCG4AP) that anyone can edit! Incase you are wondering what SBCG4AP is, it is an episodic "point-and-click-em-up" adventure style video game for the Wiiware and PC based on the Homestar Runner webseries and franchise.
This wiki was created.
8-Bit is Enough free giveaway, January 13 (Trogday) only!
Replace this with the name of your topic
Edit
Write an introduction to your topic here, to explain to your readers what your topic is all about!