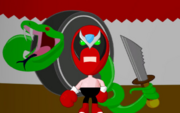 Strong Badia the Free is the second episode of Strong Bad's Cool Game For Attractive People. It has been rated E10+ for Crude Humor, Mild Cartoon Violence, and Use of Alcohol by the ESRB. Written by Chuck Jordan and The Brothers Chaps.
The King of Town becomes tyrannical and institutes an email tax. For not paying said tax, Strong Bad is placed under house arrest with an exploding collar strapped around his neck. After Strong Bad escapes, he announces that Strong Badia will secede from Free Country USA, and attempts to rally his fellow citizens into joining him. However, everyone goes off to form their own countries instead, and Strong Bad must now unite the fractured nations under one banner (namely, his) in order to complete his mission to overthrow The King of Town's "fat-thority".
Cast: Strong Bad, The King of Town, Homestar Runner, Strong Mad, Homsar, Coach Z, The Poopsmith, Pom Pom, Marzipan, Strong Sad, The Cheat, Bubs
Ad blocker interference detected!
Wikia is a free-to-use site that makes money from advertising. We have a modified experience for viewers using ad blockers

Wikia is not accessible if you've made further modifications. Remove the custom ad blocker rule(s) and the page will load as expected.